REDBRICKS EARLY YEARS PROGRAM (EYP)
The Redbricks Early Years Program has been developed with an aim to provide an opportunity for children between the ages of 2.0 to 4.0 years for overall stimulation and early interaction in a safe, nurturing, and developmentally appropriate environment.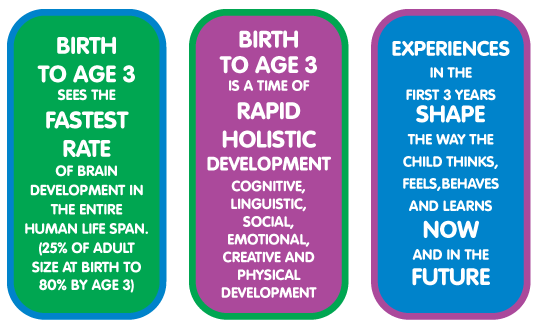 EARLY YEARS- A FOUNDATION STAGE
Early childhood is the period that sees the most rapid growth and development of the entire human lifespan. It is during this period that the foundations of holistic development of a child are laid.
Developmental research confirms that the first five years are particularly Important for the development of the child's brain, and the first three years are the most critical in shaping the child's brain architecture.
Early experiences provide the base for the brain's organizational development and functioning throughout life. They have a direct impact on how children develop learning skills as well as social and emotional abilities. Children learn more quickly during their early years than at any other time in life.
It is therefore vital that parents and educators focus on providing stimulating and holistic experiences to children at this age for their overall well-being and growth.
GOALS OF THE PROGRAM
The goals at each stage of EYP are designed in line with age—appropriate developmental milestones drawn from an extensive study of child development research.

They focus on development of children across all areas including: Cognitive, Language, Physical, Social, Emotional and Creative domains.

The goals within each of these domains are not focusing on academics and do not put undue pressure on young children.

These goals are child-friendly and in line with their capacities at this age. Example- A Stage 2 language goal would be "To enhance identification and discrimination of familiar sounds from the environment" rather than "To teach alphabets."

The development of such foundation skills is crucial and contributing towards the child's future. However, the core focus is on the 'developing child' as on today, and his/her needs, interests and abilities at this stage of life.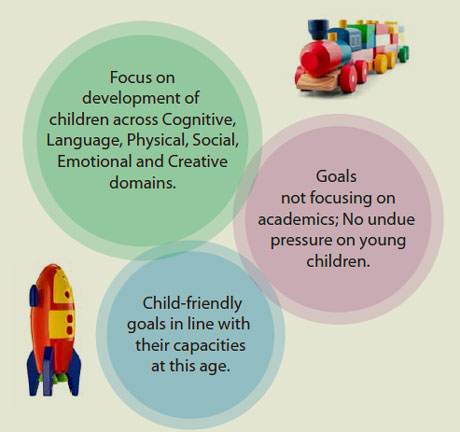 HOW CHILDREN LEARN IN EYP
INQUIRY LEARNING

Childhood is a state of wonder and curiosity; a time when the world is fresh and every small thing is intriguing and interesting. At Redbricks EYC, learning is built on the child's natural curiosity where the child is an investigator and discovers how the world works through active, first hand exploration.
PLAY-BASED LEARNING

Play is work for young children. It is through Play that they learn about the world around them. At Redbricks EYC, children are given opportunities to engage in play of various kinds. Teachers are active observers and facilitators in helping children to develop important skills from their play.
EXPERIENTIAL LEARNING

Young children are not capable of abstract thinking and their key mode of learning is through their five senses. They need hands-on experiences where they can themselves experience objects/processes. A variety of experiences are provided to children that are relevant at their current stage of life. These experiences are faciliated by teachers who help children to make meaning from these experiences through verbal interactions.
EARLY YEARS PROGRAM- STAGE 1 (2.0 TO 3.0 YEARS)
| | |
| --- | --- |
| • | In this stage, the major focus is on the physical development of children through a gym program and an exploration of various senses. |
| | |
| • | Lots of opportunities are also given to children through small and large group activities for their overall development. |
| | |
| • | Sessions in a day include indoor free play, snacks time, story time, creative arts, music and movement and outdoor play. |
| | |
| • | Regular celebrations and few field visits a year are also a part of the program. |
| | |
EARLY YEARS PROGRAM- STAGE 2 (3.0 TO 4.0 YEARS)
| | |
| --- | --- |
| • | In this stage, children's vocabulary and language skills develop quite further than in stage 1. |
| | |
| • | They now start participating in group discussions sharing their ideas and understanding in a much more vocal manner. |
| | |
| • | A large emphasis is placed on developing their listening and speaking skills in this year. |
| | |
| • | Socio-emotional, physical and creative development also takes a significant jump in this year. |
| | |
| • | In the area of cognitive development, their numerical and thinking skills are also developing rapidly and they start learning important maths readiness concepts in a hands-on manner related to the world around them. |
| | |
| • | Sessions in a day include indoor free play, group discussion, snacks time, story time, creative arts, music and movement and outdoor play along with regular celebrations and field visits. |
| | |
A DEVELOPMENTALLY-APPROPRIATE ENVIRONMENT
Nurturing Staff
The teachers of EYP are selected for their sensitivity and ability to connect with young children. They are provided extensive induction and ongoing inservice training in order to become professional early childhood educators. Their approach helps children to easily connect with them, and their patience provides children the necessary freedom to explore and experiment. Female helpers (maids) are also assigned to support teachers and to cater to children's basic needs.